Warner University is in GROWTH mode!
With the completion of over 90,000 sq.ft. in new or updated facilities in the past few years alone, WU is on the move!
There are a few capital projects with investment opportunities available.
To learn more, email VP for Advancement Andrea Thies or Asst. VP Leigh Ann Wynn or give us a call at 863-638-1446
Tye Athletic Performance Center
The 13,000 sq.ft. Tye Athletic Performance Center gives our athletes a new home! The Tye Center houses:
A large Locker Room for the WU Royals Football team
Coaches' offices
Training Facilities
Large Fitness/Weight Room
Showers
Second-story balcony overlooking the recently updated baseball field
Consider how you may help Warner complete this much-needed project.
We have some upstairs naming opportunities still available, just give us a call at 863-638-1446 or email leighann.wynn@warner.edu.
Baseball Stadium Campaign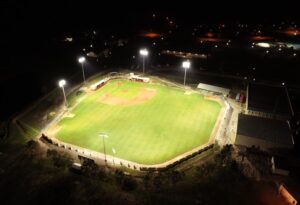 The baseball stadium at Warner University is looking great! Two of the three phases are complete:
Stadium Lighting – Completed!
The "Fan Experience" – The new covered stadium with 300 seats and full press box and VIP area (thank you to the Jahna Foundation) is completed! Full seat backs are available for naming for $1,200 each. Please consider investing in WU's new baseball stadium with a gift. Click here for more information or contact leighann.wynn@warner.edu or call 863-638-1446 or Coach Jeff Sikes at jeff.sikes@warner.edu.
The "Player Experience" – the new scoreboard has been installed and stadium lights are up – night games have begun! To complete the entire baseball stadium upgrade, we would love to give the young men their own clubhouse complete with locker room, showers, bath rooms and media room. To help this become a reality, please reach out to our Advancement office at 863-638-1446.
Warner University Athletic Turf Field Stadium Campaign
Swindle Ag Complex "Stock the Barn"

The Swindle Ag Complex was dedicated on September 20, 2018!
To view the current donors to the Agriculture Complex and program, click here: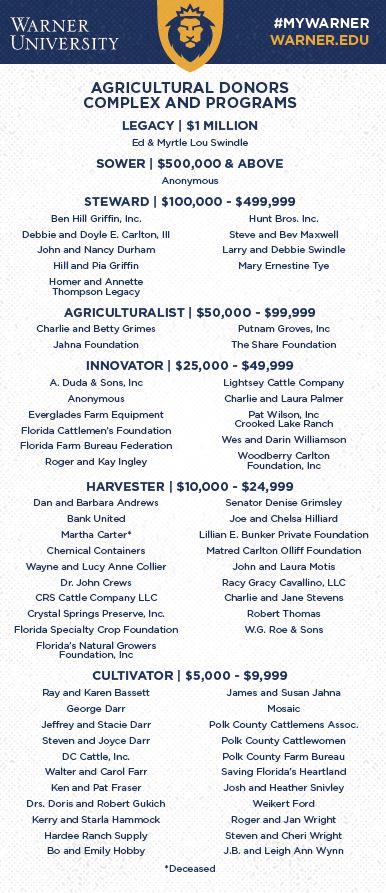 Warner would like to say a big thank you to these donors for their generosity!
Warner is so gracious that the complex is completed, now we are continuing this project by "stocking the barn"! Join us by picking an item or an amount to help us fill out the inside of the complex:
Stock the Barn Campaign
Ag Student Scholarships- $25,000
Livestock/Rodeo Arena- $20,000
Used Truck- $15,000
Stock Trailer-$10,000

Laminar Flow Hood & Microscopes- $8,000

Stocked By: A. Duda & Sons
John Deere Gator/UTV- $7,000
TV/Computer Display Cart- $6,500
Projection Microscopes- $6,000

Portable Fume Hood- $5,500

Stocked by: Jahna Foundation
Welding Booths (2)- $5,000 Stocked by: Fla FFA Alumni Association

Chicken Coop- $5,000

Stocked By: Dan and Barb Andrews

Mower Implement- $2,000

Stocked by: Albritton & Sons

Disk Implement- $1,500

Stocked by: Albritton & Sons
Livestock Fans- $1,500
Saddle Rack- $400
Water Troughs/Feed Buckets- $250

Tools- $250

Stocked By: FL Strawberry Grower's
Blower- $150
Stall Muck Bucket and Cart- $125
For More Information, Please contact Leigh Ann Wynn at leighann.wynn@warner.edu or at 863-638-1446
Alumni & Friends Brick Walkway
The Alumni & Friends Brick Walkway is a wonderful way to honor a family member or friend, commemorate a special event, or pay tribute to a loved one. Your name, year of graduation, or personal message will be engraved and placed alongside those of classmates, friends, and family in the walkway that begins at the Love Essence sculpture.
Bricks may be purchased for $125 each, and will pave the way for future Royals for years to come. Contact Alumni Relations & Annual Fund Coordinator Abby Crawford at abby.crawford@warner.edu or 863-638-7248 or purchase a brick online here and choose "Alumni & Friends Brick Walkway" on the drop-down menu to designate where you would like to direct your gift.