The Ministry Department is growing at Warner University with excited students, dedicated faculty, and skilled partners in the local church.
How are students preparing for ministry outside the classroom? How are our ministry students growing in their work for the Lord? In at least three ways…
Here are our three C's:
Church
The church is the only organization Christ founded. The reformer Oecolampadius said, "The person who does not love the church does not love Jesus Christ."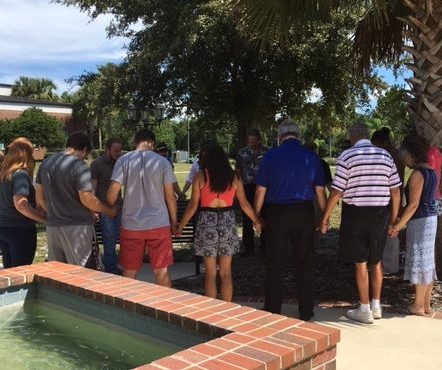 A good number of Warner students are serving internships in churches, including as many as eight at South Lake Wales Church of God alone! Others are serving in their summers and at other congregations. They are gaining skill in teaching, working with children, developing their spiritual lives, and working with local pastors. The leaders of the future are learning to serve today!
 Conversation
Three to four times a semester, 20 or 30 or more students gather on The Porch outside The Union, for "Coffee and Conversation". A fun hour is spent discussing every theological and biblical topic under the sun in a safe environment. Some topics from our Sept. 17 discussion included: how sinless can a person be? Why are there so many denominations? What does baptism actually do to a person?
Along with the conversation comes donuts and coffee and many times, when the hour is up, there are still questions waiting for next time. Ministry majors join with students from other majors as we do theology together and work out our faith in community.
The important lesson for those preparing for ministry is this: we do not do it alone. In teams, thinking, learning, growing together, we seek to build one another up. There is room for doubts and questions and always new challenges in the faith as we journey together.
Conferences
Warner students and faculty love to grow and learn by attending conferences and listening from top leaders in ministry. Last winter, some of our students attended the dynamic Passion Conference in Atlanta. In October, a group will journey to the Florida State Church of God Minister's meeting. The highlight of my fall was both attending the Willow Creek Leadership Summit (via video conference at our church) and the Catalyst Conference in Atlanta. Here are three quotes I shared with our Ministry students from Catalyst:
"People follow courage, not titles" (Tim Tebow).
"To be a great leader, do the things great leaders do" (Andy Stanley).
"New levels, new devils" (Christine Caine).
It is a great time to study for the ministry, and Warner is a great place to do it!
For more information, contact Ministry Chair, Dr. Tim Dwyer, at timothy.dwyer@warner.edu