This week brings celebration to the Warner University community as we honor the retirement of our president of 25 years, Dr. Gregory V. Hall.
Dr. Gregory V. Hall became the second President of then, Warner Southern College, in 1991. Although the school possessed 300 acres of land on the west side of Highway 27, only a gymnasium and a dorm were present on that side. The institution, however, would not stay that size for long. On that winter day in 1992, as President Hall approached the pulpit to make his first of several significant public addresses, a transforming leader began a quarter-century of life-changing work. At the onset of his Presidency, Dr. Hall shared a vision of what he believed Warner would become.
Over the course of the next twenty-five years, President Hall's original vision for Warner would become a reality. As Warner became a university, it would experience exponential growth in virtually every area related to an institution of higher learning. Spiritual, physical, intellectual, and fiscal escalation would occur at an unprecedented rate. Perhaps most importantly, what it meant to be a Warner Royal would become clear. To be a part of Warner University meant one would take part in something that was truly "Beyond Belief". Its mission would transform the minds and hearts of the community toward faithful service fueled by super-natural endurance.
Under the guidance of President Hall, Warner University would become synonymous with daring obedience and radical expansion.
Less than a decade after President Hall first addressed Warner it had doubled its enrollment, growing from a small community of fewer than 500 students to a full-fledged college of over 1,000. In the fifteen years that followed, Warner expanded to nearly 1,500 students representing a myriad of states, countries, and academic majors.
When President Hall began his tenure, Warner Southern College's net assets were estimated at just over 3.5 million dollars. The college was rich in land but poor in funds. Today, Warner University has carried out wise infrastructure investments that have made the campus far more valuable. By 2015, the university's estimated net assets had grown to more than 17.5 million dollars.
Bold vision and courageous action transformed this institution into a community with the capacity to be great. Such a reality came about solely due to a leader who foresaw such a future for Warner long before anyone else had the audacity to believe it possible. In fact, it seems as if Warner University can boast of an experience that is "Beyond Belief" primarily because its second President exemplified that exact type of leadership from the very beginning of his presidency in 1991.
It is certainly no coincidence that as President Hall steps down from a post he has held for over half of Warner University's lifespan that even more expansion is both under construction, as well as set to begin. There is perhaps no greater legacy to an outgoing leader than to depart to the sound of ground breaking, to the sound of hammers and saws; with the sight of dust in the air.
Warner University is still becoming the institution of higher education it is called to be, and the reason such a hopeful and ambitious future is possible is due to only the strongest of Presidential Leadership.
Celebration events will be taking place on Warner's campus throughout the week for faculty and staff. For the community, donors, family and friends, the Presidential Retirement Banquet will be held at Lake Ashton Thursday, April 28.
President Hall's final commencement ceremony is this Saturday, April 30 on Warner University's campus at 9 am, where 300 graduates will walk the stage and accept their diplomas from Dr. Hall. This will mark close to 7,000 diplomas that Dr. Hall has handed out. We are all honored to have served our Lord along side a leader like Greg Hall.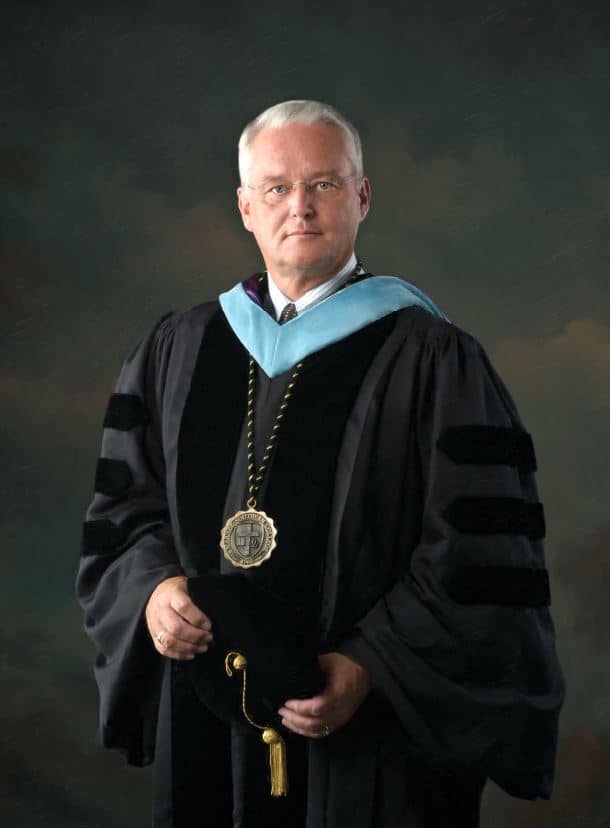 Written with excerpts by Ty Benbow from "25 Years of Progress", a book
honoring President Hall's tenure.