By Delaney Elder, WU Student
We can all agree that God's plan can look a whole lot different than what we have in mind for ourselves. For some of us, we find our callings early in life and feel at ease knowing just a portion of what that plan could look like. But it's not always that simple, is it?
David Black graduated from Warner University in '94 with a bachelor's in business. Today, the Warner community knows him as David Black, Deputy Chief of the Lake Wales Police Department.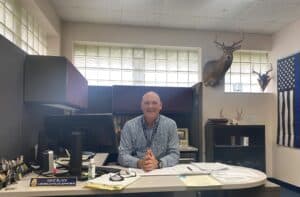 Working in the police force wasn't always what he had in mind. Black originally planned to work in his father's business in sales but ended up going into the police academy in '95. Dave actually was first introduced to the possibility of working in the police force by a coworker of his wife Michele, who also happens to be a Warner alumna. Michele is a teacher at Babson Park Elementary, where a fellow coworker's husband was also looking into joining the police academy, so they both decided to jump in together. 
When asked how Warner has helped him, he says the benefits he received from the university affected all aspects of his life. It was with the help of a "good foundation and good professors," and a special shout-out to Tim Wisemen and Professor Schwartz, who helped him to be able to flourish and succeed in college. 
Warner was where he learned priceless life lessons, work ethic — and happened to be where he met his wonderful wife, Michele Black.
Thank you to David Black for helping to protect our community!