Dr. Christopher Maslanka would like all of his students at Warner University to know one thing about him: "I'm not as funny as I think I am, but I am trying…"  
According to Maslanka, not everyone gets his sarcasm, and it becomes a problem when people take him seriously, especially when he crosses into dark humor regarding topics in old literature.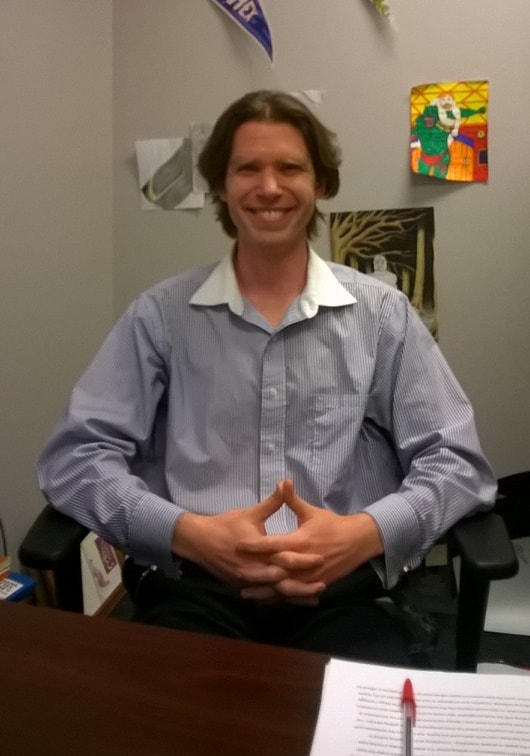 Maslanka certainly loves his literature. As an English professor, he has to do plenty of reading for his job, but he also listed reading as his favorite hobby, in front of puppetry and surfing.
Of course, he does not have much time for such things these days.
"I used to have hobbies and then I became a father," Maslanka said.
Maslanka enjoys working at Warner. His favorite attribute of the school is its small size.
"I am actively part of the university," Maslanka said. "I'm not just one cog in a machine."
Maslanka said he would not want to teach at his first school, University of Wisconsin Madison, anymore, because of how big it was.
Originally, Maslanka worked at UW Madison as a professor's assistant while getting his Ph.D. After achieving his doctorate, a professor at the school left, so Maslanka was hired on at Madison for a year while they looked for a replacement.
Maslanka also worked at Leeward Community College in Hawaii and Marquette in Wisconsin.
An important fact to Maslanka is that Marquette is home to J.R.R. Tolkien's original notes on The Lord of the Rings.
"Every scrap of what he used to write the Lord of the Rings is in those archives," Maslanka said. J.R.R. Tolkien is one of Maslanka's heroes.
Eventually, Maslanka wound up at Warner, where he is the school's only doctor in the English program. According to Maslanka, though, his mother-in-law hates referring to him as a doctor, believing that only those with a medical degree should hold that title.
Maslanka is beginning his third year at Warner University and looks forward to bringing his dry wit back to the school this fall.