On Friday, Nov. 4th, with over 1,000 attendees packing the First Baptist Church of Lake Wales sanctuary, Dr. David A. Hoag was inaugurated as the third President of Warner University.
Warner students, faculty, staff, community leaders, donors, guests, and Presidents from other colleges came together for this most regal of ceremonies.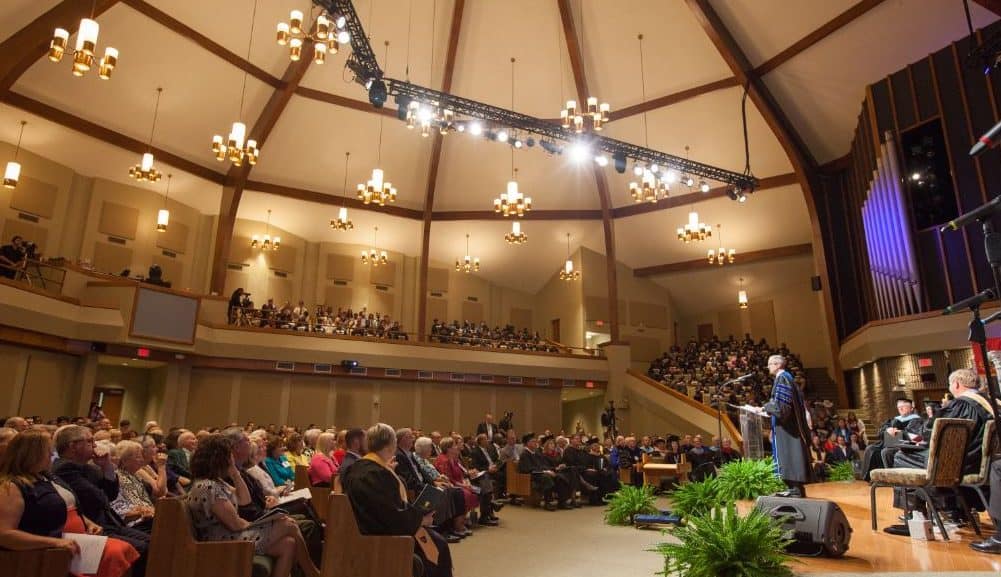 Ceremony at First Baptist Church of Lake Wales
As the inaugural speaker, University of Florida President Dr. Kent Fuchs spoke words of affirmation to Dr. Hoag.
"When people think about the university, they'll think of Dr. Hoag," Fuchs said. "The university has indeed chosen the right man for the future. He indeed is a servant and he indeed leads."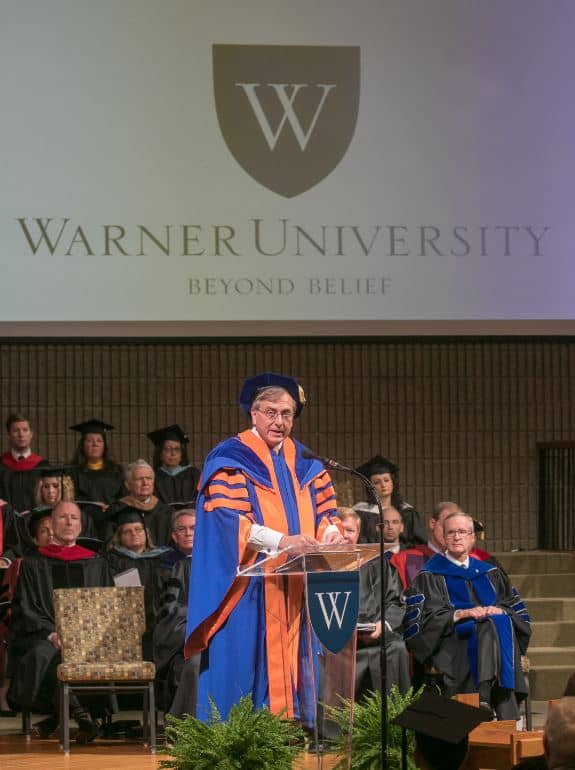 UF President Kent Fuchs
Senator Denise Grimsley, a Warner alum as well as a member of the Board of Trustees, spoke on behalf of the school's alumni.
"You are sure to quickly discover that Warner is truly an extended family," she said. "Whether it is support of the business program or the new agricultural program, you can count on the Warner alumni."
Chairman of the Warner University Board of Trustees and Executive Director of the Lake Wales Care Center Rob Quam led the prayer and said of Hoag, "We believe that he has been called to Warner University for a moment such as this."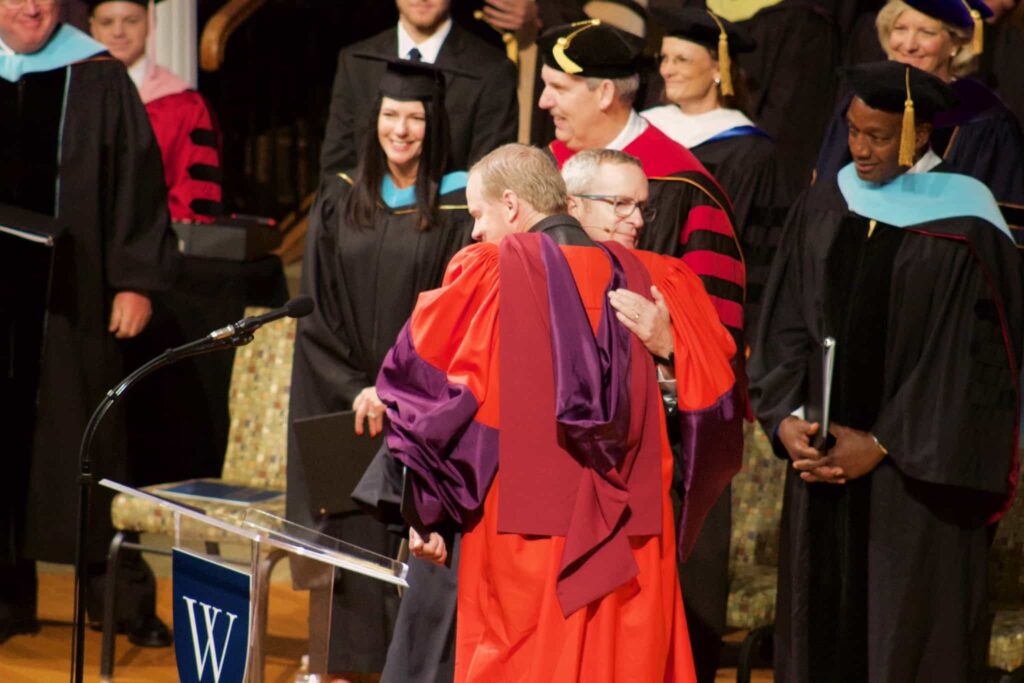 Hoag Brothers
The processional included over 65 Warner faculty and emeriti, Warner cabinet members, delegates from other higher education institutions, the Warner Board of Trustees as well as the speakers on the platform. One of which was President Emeritus, Dr. Greg Hall, who passed the Presidential medallion on to Hoag.
"Dr. Hoag, we pledge to you our prayers, our wisdom, our confidence in you to lead this great university," said Hall.
CCCU President Dr. Shirley Hoogstra brought greetings from the Council for Christian Colleges and Universities, and said of the other Christian college presidents who Dr. Hoag is joining:
"They promise to be your allies, they promise to be your friends and your prayer partners."
And in knowing the quick pace Dr. Hoag works at, she followed up with, "You know what they say: 'speed of the leader, speed of the team.' Well, watch out!"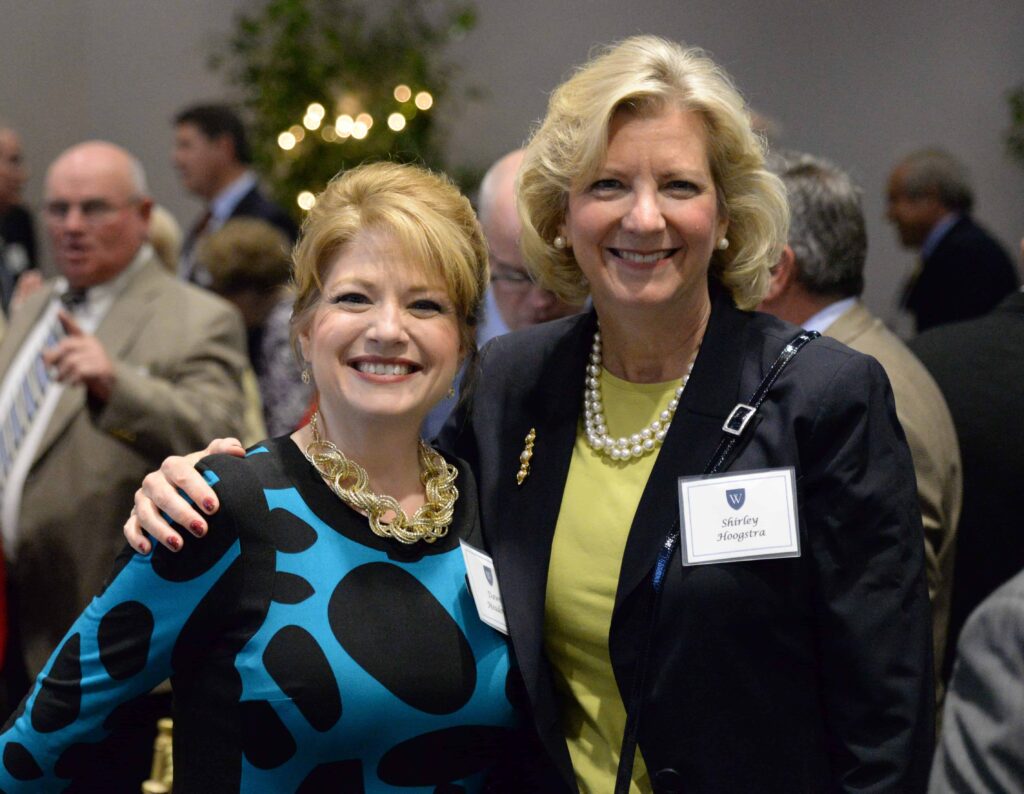 Dean of Students Dawn Meadows and Dr. Hoogstra
Even with all of the formality of the ceremony, academic regalia and official protocol for an inauguration, Dr. Hoag's fun personality shined through once he rose to speak.
"After being blessed so much today, I don't know what else to say except my name is David Hoag and I approve that message."
Hoag got a rise out of the student-athletes seated up in the balcony when he made the sign of a "W" with his hands, representing Warner.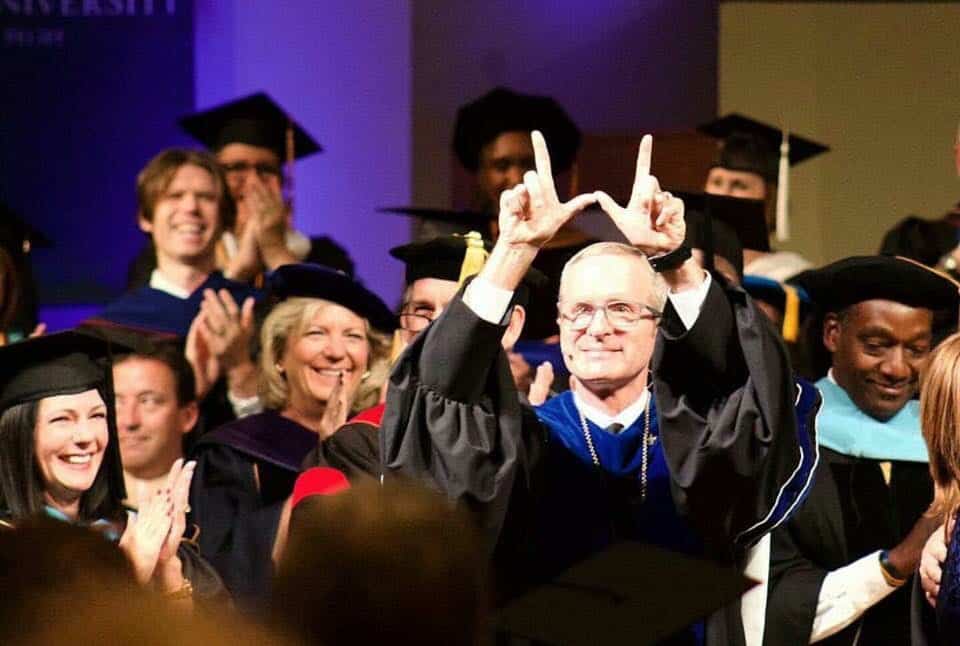 Hoag went on to say, "I want Warner to be a transformational space that builds you academically and spiritually."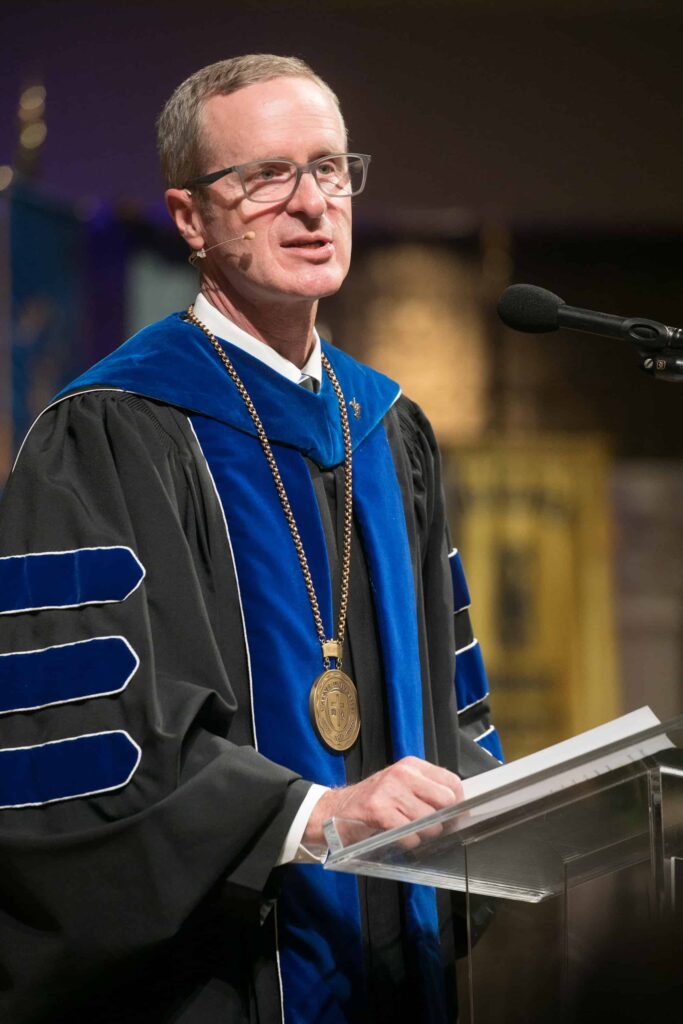 President David A. Hoag
The entire Warner community, as well as Christian higher education as a whole, came together to celebrate the future of Warner University. We can't wait to see what God has in store for this university.
Photos from Mike Potthast as well as Warner Student Kayla Selander.