Kevin Watler (BA '08) graduated from Warner University with a degree in Communication Arts and a minor in Education. Watler is now a Communications Specialist for the Polk County Board of County Commissioners, assigned to Polk County Fire Rescue as its lead Public Information Officer and is also the host for the Commissioners Report, a show that airs on Polk Government Television.
Prior to his current position, Watler was a television journalist, producer and anchor for the station Cayman 27; a television station in the Cayman Islands.  He also managed the station's website and social media sites.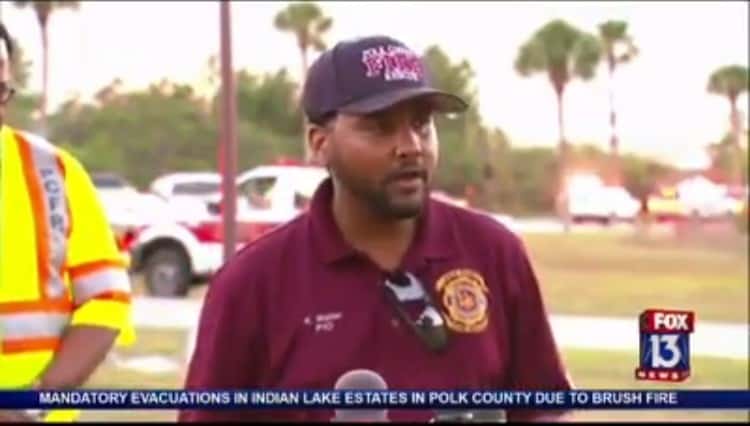 Kevin Watler on air
"Dr. Moyer was my favorite professor. He was very challenging, but did a great job at preparing me for life after the university," said Watler. "He made sure his students were ready to apply for careers and/or grad school, and was also very supportive and would always find time to discuss future goals with his students."
During his time at Warner, Watler played in the pep band and sang in the Collegiate Chorale with Professor Bryan Johnson as the director and Dr. Steven Darr as the choir director. Watler remembers important lessons from this time that have stuck with him in his life.
"Before and after we performed, we were encouraged to mix and mingle with the audience. Dr. Darr said never, ever ask someone how they are doing unless you're truly prepared to hear an honest answer," said Watler. "Dr. Darr always stressed that we needed to be genuine."
"Several of us slipped up and had to spend a lot of time listening to people talk for a very long time about things on their mind. But there have been times I wanted to know the answer," said Watler. "For instance, after I graduated I became a television journalist. Everyone has a story to tell and as a journalist, you need to ask the right questions to get the story. You also must listen very carefully. I learned to always be genuine, be careful with what you say, and listen carefully."
Watler is from the Cayman Islands, with his parents still living there. His wife Maria, whom he met at Warner is an educator and currently teaches at Carlton Palmore Elementary in Lakeland. They have a Welsh Corgi named Ducky.
We wish Kevin all the best and many blessings to him and his family.