LAKE WALES, FL , May 2, 2016–Mr. Rob Quam, Chairman of the Board of Trustees for Warner University announced to the campus community on Monday, May 2, 2016 that Dr. David A. Hoag will be the third president of the 48-year old institution, ending a two year search conducted by an eight member committee, in conjunction with executive search firm, CarterBaldwin Executive Search.
"Dr. David Hoag embodies what the Warner University community desires and deserves in a President.  His spiritual leadership, strong moral character, quality family life, depth of experience in higher education, and calm temperament are a perfect fit for the ethos of our campus community.  Dr. Hoag is poised to build on a foundation laid by our two previous presidents." –Rob Quam
Having served 29 years in Christian higher education. Dr. Hoag is clearly a visionary leader who has prepared himself throughout his entire life for this moment. He is an experienced leader in higher education, an expert related to financing and fundraising, and views the world completely consistent with Warner's Statement of Faith. Most importantly, Dr. Hoag's relationship with Jesus Christ as his Lord and Savior is real and obvious.
He is leaving the position of Senior Vice President, University Advancement, at Trinity International University in Deerfield, Illinois. He has previously served in leadership roles at Asbury College and Greenville College.
It is a privilege for me, in conjunction with the entire Trinity community, to offer our heartiest congratulations to David Hoag on his election as the new president of Warner University. David will bring many good gifts along with years of experience at a variety of institutions in the world of higher education administration to bear upon his new calling at Warner at this particular time.  We congratulate the Warner University family on their selection of David Hoag and we wish the best for Dr. Hoag, his family, and the Warner community in the days to come.  -David S. Dockery, President, Trinity International University
Dr. Hoag holds a Ph.D in Higher Education from Saint Louis University, a Master of Science from the University of Kentucky, and a Bachelor of Science from Asbury University. He also has earned a Certificate of Achievement from Indiana University Center on Philanthropy Fundraising School.
Dr. Hoag is married to Joanna, who he met in college, and they have been married for 30 years. They have two daughters, Jamie Sanfilippo (Ryan) and Joni Stanick (Scott), who are both married.
Warner University, founded in 1968 by the Southeastern Association of the Church of God (Anderson, Indiana), is a co-educational, Christian university in the liberal arts tradition.  The campus is located five miles south of Lake Wales Florida.  The mission of Warner University is to graduate individuals who exemplify academic excellence and Christian character, who are prepared to lead and committed to serve.   For more information about Warner University, please visit www.warner.edu or call 863-638-1426.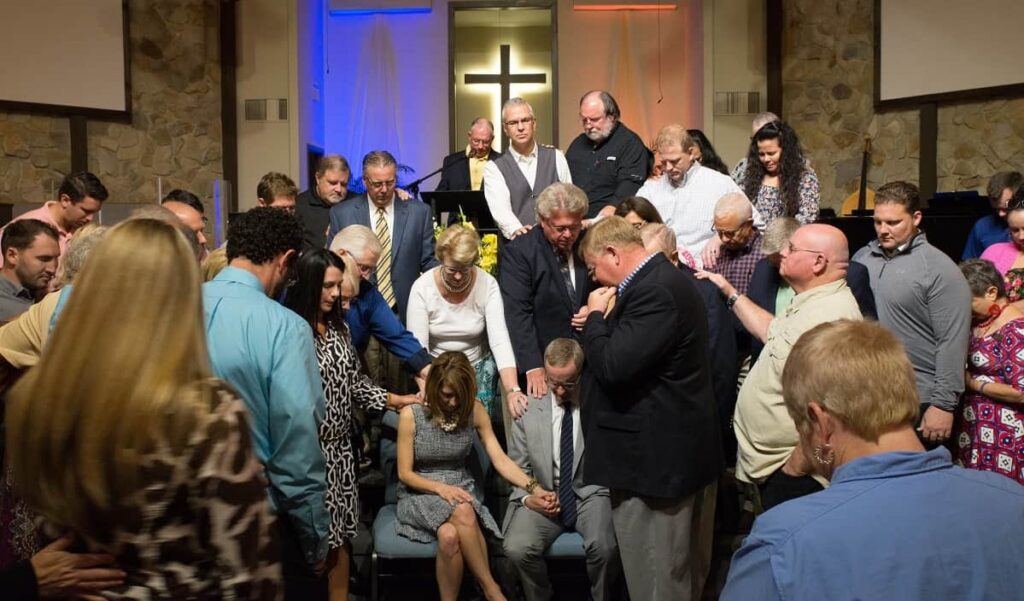 Chapel service introducing Dr. David and Joanna Hoag to
Warner faculty and staff, where they were fervently prayed over.
# # #
If you would like more information about this topic, please contact Dawn Rafool at 863.638.3818 or email at dawn.rafool@www.warner.edu.