By WU student, Delaney Elder
This week the Warner community must say farewell to Ms. Virginia Schnarre, WU Research Database Specialist Librarian. 
Before she came to Warner, Virginia worked at plenty of libraries – even across the lake at Webber. When she was a college student, Ms. Schnarre had always figured she could see herself working as a history teacher. Even still, life has a way of changing your plans. Ms. Schnarre found herself working at the historical library of Bartow and discovered her true calling as a librarian.
Ms. Schnarre has worked as a librarian for about 39 years, and she's been a part of our staff for the past 24 years. Over that period of time she's been able to witness Warner develop and improve by providing new buildings and services to make our university a better place. It's been one of her greatest pleasures to be within the change in libraries everywhere by pulling information from electronic records instead of handheld catalog records. 
It's where she discovered she had a passion for the art of research and the different routes one could take to learn more about various subjects. That passion grew as she was able to help more people, students and colleagues alike, to learn of different resources they could access with her help and incorporate into their own research.
During her time at Warner, she has worked countless hours creating legacies like new additions to the WU research databases. Ms. Schnarre is most proud of the library guides, RoyalSearch, and the various "how-to" videos she created and incorporated into our research databases.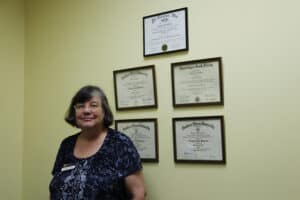 Being able to look back on this time and see all that she's accomplished, not to mention her induction into Pi Gamma Alu, isn't something that just anybody gets to do in their lives. She's so thankful to have witnessed and been a part of this growth, but she's looking forward to opening a new chapter–retirement.
Virginia Schnarre has big plans for her future after retiring and they all go hand-in-hand with spending more time with her mother. The pair have always wanted to see Europe, but that'll only be one of many vacations ahead of them. 
As she leaves her position, she wants to encourage fellow researchers to fully dive into their work.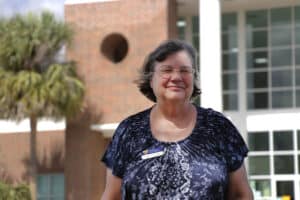 "Through the years I've helped a lot of people with research. They search one term, but you need to be creative and use multiple resources–don't give up!"
The Warner community thanks Ms. Virginia Schnarre for the time and efforts she has dedicated to improving the Pontious Learning Resource Center. It's because of diligent individuals like Ms. Schnarre at Warner University that we have been able to create a culture that not only encourages but assists in the engagement of education.