Advancement
Giving Priorities & Opportunities
We're building something together: a Christian community of learners who understand what servant leadership is all about; a college campus dedicated to honoring God; a vision for students who build their lives on a Christian foundation.
Help us stay on course by partnering with us through prayer and your financial gifts.
There are a myriad of ways to be involved in the educational ministry of Warner University. The possibilities are limitless. If you have questions or wish to discuss any of the opportunities, please contact Andrea Thies, Vice President of Advancement for more information. She can be reached at 863-638-7611 or andrea.thies@warner.edu  or Leigh Ann Wynn, Asst Vice President of Advancement, for more information. Mrs. Wynn can be reached at 863-638-1446 or leighann.wynn@warner.edu.
Scholarships
Scholarships are vitally important to the educational success of college students today; this scenario is the same for the majority of Warner University students. More than 95% of WU students receive some form of financial aid from the University. You can see why scholarship funding is so important to offering a high-quality, Christian education. Through the establishment of Endowed Scholarships, Warner University is able to provide student financial support for academic award and financial need.
An Endowed Scholarship can be established through a donation of $20,000. The fund can begin with any amount and as you give, it continues to grow. When it reaches $20,000 it qualifies as a Named Endowment.
Endowed Scholarship Policy
and
Endowed Scholarship Form
Planned Giving – What is your legacy?
You may create a gift of lasting significance to Warner University through bequests, gift annuities, stocks, real estate, insurance, charitable remainder trusts, wills & estates, and other types of gifts. These "planned gifts" make it possible for you to take care of yourself and your family, minimize your federal tax liability, and benefit the university in a lasting way. To learn more about gift through:
Wills & Estates
Charitable Annuities
Trusts
Life Insurance
Contact Andrea Thies, Vice President of Advancement at andrea.thies@warner.edu or 863-638-7611.
*Always consult your tax professional regarding any planned gift you wish to make.
Alumni Giving
Support your Alma Mater by taking the Lion's Share challenge. For as little as $10 per month, you can join other Royals in securing the future of Warner University. Of course we will be happy to accept larger gifts as well. Donations can be made through a one-time gift, but they can also be set up to be automatically deducted from your checking/savings account or credit card, if you prefer.
Alums can also support WU through employer matching gifts, student recruitment, and contacting Career Services with internship and employment opportunities. All of the options help the university continue to grow while increasing the value of the diploma you already hold. Contact Director of Alumni Relations, Kareen Pickett, at kareen.pickett@warner.edu or 863-638-7248.
Clark Peacemaking Initiative
The Peace and Conflict Transformation (PACT) group was named in honor of Dr. Robert and Fran Clark at Warner University. A fund was established to support this peacemaking initiative. PACT is committed to linking with movements at sister Church of God institutions of higher learning in bringing together the "international network of followers of Jesus who take seriously His call to be peacemakers, and to work and pray for peace in the hearts, homes, communities, nations and the world" (Church of God Peace Fellowship).
Bob & Frances Clark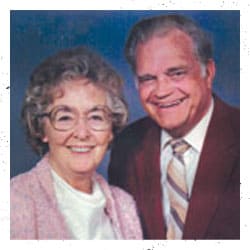 This fund honors persons who are national treasures for the Church of God-Robert and Frances Clark. Two of their life passions are missions and peace. They are known and admired for pouring out their lives for the people of India and Pakistan. They became beloved members of the Warner University family when Dr. Robert Clark taught and shared his heart for Missions. Mrs. Frances Clark's board experience and keen insights were a great asset to the Missionary Board when she was elected to its governing body.
Bob is from an extended family of peacemakers. He and Fran are pioneer leaders of the Church of God Peace Fellowship, start in the 1930s by Dean Russell Olt and Dr. Adam Miller. During the 2007 General Assembly of the Church of God, the Clarks received the "Peacemakers of the Year" Award.
In our eagerness to be supportive of the CLARK PEACEMAKING FUND during 2007, the Peace Fellowship made an initial contribution of $1,000. A retired WU faculty member gave $2,000. Clark family and friends plan to make annual, sacrificial gifts.
Will you help honor Bob and Fran by sending a gift? Click here and choose 'Clark Peacemaking Initiative' on the drop-down.
"A harvest of righteousness is sown in peace for those who make peace." – James 3:18
Capital Campaigns & Facility Development
Agriculture Complex
 To view the current donors to the Ag Complex and program,
click here
. Warner would like to say a big thank you to these donors for their generosity!
Alumni & Friends Brick Walkway
The Alumni & Friends Brick Walkway is a wonderful way to honor someone, commemorate a special event, or pay tribute to a loved one. Your name, year of graduation or personal message will be engraved and placed alongside those of classmates, friends and family in the walkway that begins at the Love Essence sculpture. Bricks may be purchased for $100 each, and will pave the way for future Royals for years to come.  
Contact Director of Alumni Relations, Kareen Pickett, at
kareen.pickett@warner.edu
or
863-638-7248
 or purchase a brick
online here
and choose 'Alumni & Friends Brick Walkway' on the drop-down.