"I want to be remembered as someone who used herself and anything she could touch to work for justice and freedom…I want to be remembered as one who tried." Dorothy Height
Written by: Dr. April Steen, Assistant Professor of Social Work
Warner's Social Welfare Policy class traveled to Tallahassee this week for the 2020 Legislative Education and Advocacy Days hosted by The National Association of Social Workers of Florida. It is a two-day event in Tallahassee where students and social work professionals meet to advocate for effective, sustainable policies that are reflective of the NASW Code of Ethics. 
Students had the opportunity to meet their legislators and sit in on House and Senate Committee meetings. More than 950 social work practitioners, students, and educators attended the event to advocate for the social work profession and the individuals, families, and communities we serve. 
For many students, this experience was their first introduction to the legislative process and an important macro experience. Warner students learned through this experience how state and local government can affect their ability to provide services to the populations they serve.  Students were particularly interested in bills related to veterans and services to children and families. 
We were fortunate to share our time in the Capital with Children's Week and Polk County Day. Special thanks to Representative Melony Bell who took extended time to meet with all of our students.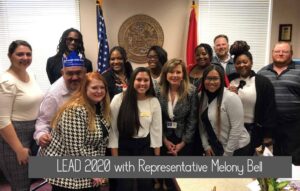 Pictured are (L to R) front row: Dr. Steen, LCSW, Assistant Professor of Social Work, Ashley Rodriguez, Representative Melony Bell, Jamesha Hamilton 
Back row: Katheryn Endicott, Baudelio "Rudy" Alegria, Jeleel Swift, Breairra Foster, Erica Cole, Tarnisha Robinson, Gregory Phipps, Imani Lewis, and Sean Karshner