In honor of Social Work Month, the Social Work club here at Warner University will be hosting an expo called Generations Strong. The event will take place on March 18, from 11:00 am to 2:00 pm, seeking to highlight the hard work social workers put in every day to improve the quality of life in America.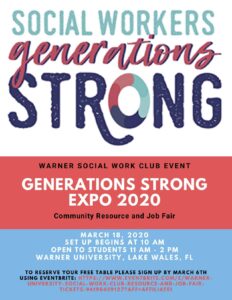 During the expo, students and members of the Genesis Point community will be able to network and contact agencies for opportunities of employment and resources. For all organizations interested in reserving a table, the deadline is March 6th. Please contact Dr. April Steen at april.steen@warner.edu to go about reservations. 
Hope to see everyone there!