Austin Shaner, a senior at Warner University, spent his summer on an extended mission trip to the island of Yap. Not many have heard of the tiny island, which Shaner says is "in the middle of nowhere," but Yap, being a state of the Federated States of Micronesia is actually a commonwealth of the United States, and therefore, the common language spoken is English. The 16-mile long island boasts a population of just 11,000.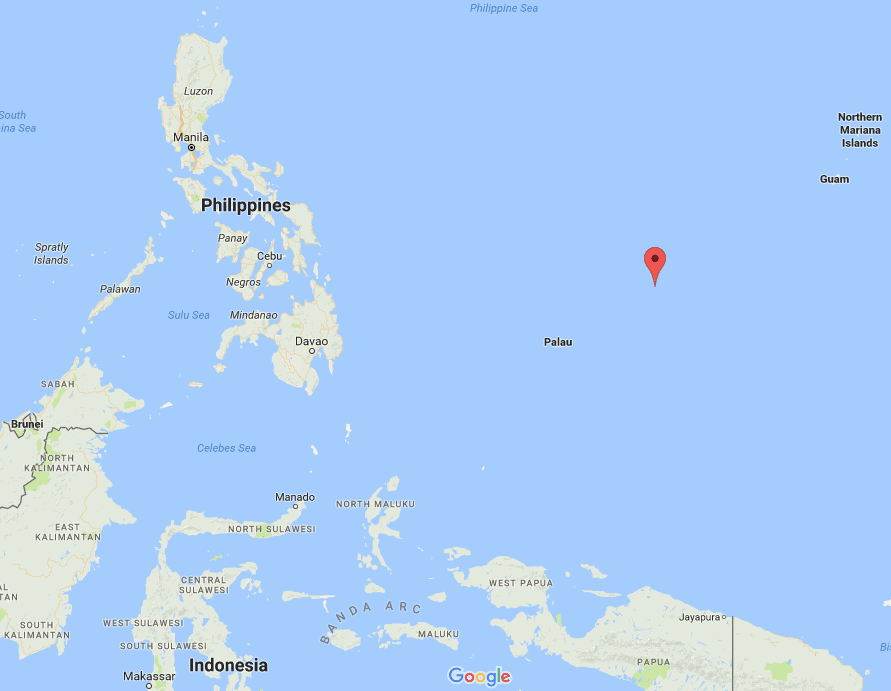 Shaner found out that he would be going to Yap when Church of God missionaries asked for help for the summer. One of the things they needed help with was a soccer camp. Since Shaner is a soccer player at Warner, majoring in sports ministry, he felt called by God to use soccer as a ministry in Yap, so he and two of his high school friends put their summer plans on hold and headed to Yap.
It was not long before Shaner realized that not everything was going to go as planned. Shaner assumed that he and his friends would be working soccer camps all summer, but upon arriving in Yap, they found out that there was to be just one week of camp at the end of the summer.
That did not mean that Shaner's summer would not be busy, though.  One of the things he found himself doing was helping out at the local school every morning. The school was different than a typical American school.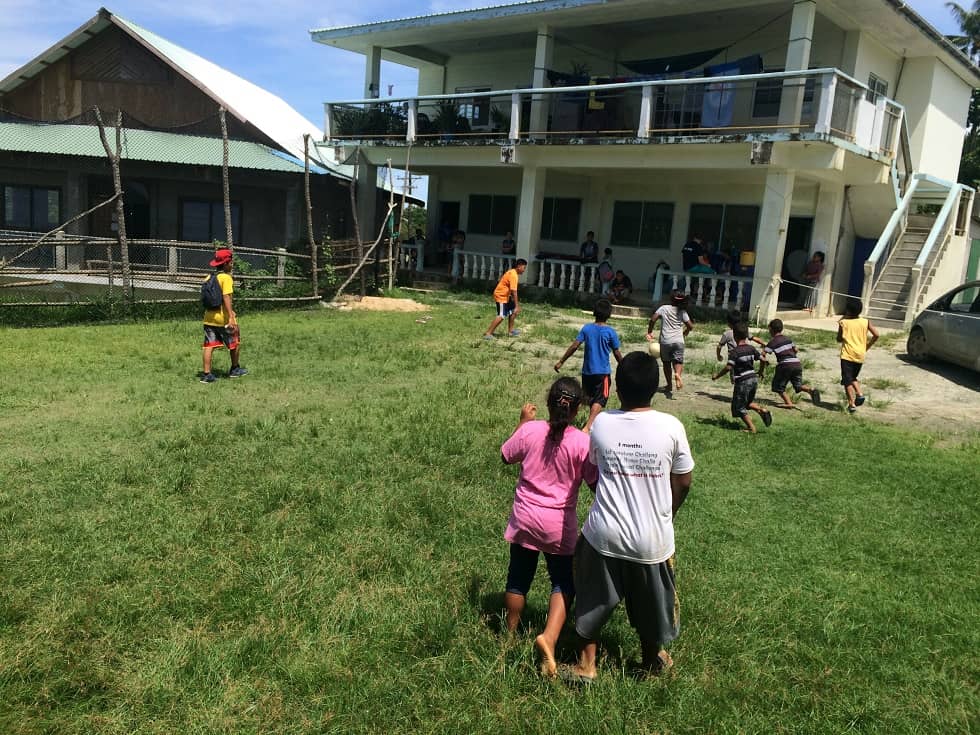 Yap Schoolyard
"Kids would teach themselves with the books, and we would come by and answer questions," Shaner said. Besides teaching, Shaner helped the school out in other ways, such as putting up a removable wall in the building.
Shaner soon found a way to put his soccer gifts to use, though.
One day, he and his friends discovered a group of high school kids practicing soccer in a dirt field. Apparently, their coach would never show up to practice, so the kids asked Shaner and his friends to coach them. Shaner jumped on the opportunity.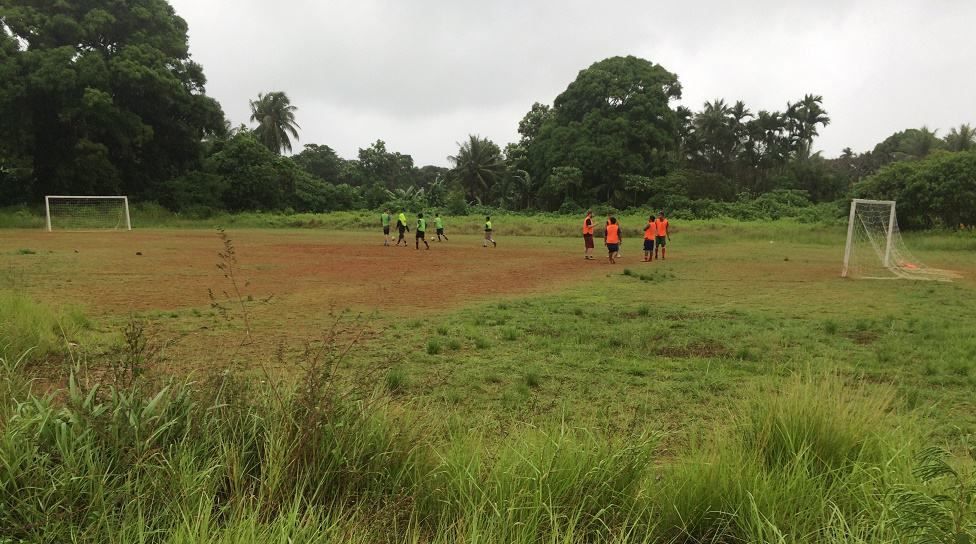 "The Lord gave us the chance to share the gospel with these kids," Shaner said.
Shaner's afternoons now were spent coaching this new team, and he had plenty to share with them in both faith and soccer.
"Soccer has only been around [in Yap] 4-5 years, so the level of play is kind of low," Shaner explained.
Eventually, Shaner discovered that he had been coaching the kids that played on Yap's national team, and God had given him the opportunity to witness to them and develop relationships with them.
Shaner also was involved in Yap's Church of God where he worshiped every week.
"I was able to preach there once, and my friend led worship every week," Shaner said.
The church was special, for it brought unity to the people of Yap.
Shaner explained how Yap had a caste system: those from the main island were part of the high caste, while those from other islands were part of a low caste. Whatever caste one was a part of determined everything from how they dressed to how they could eat. A low caste person was not even allowed to touch the food intended for a high caste person.
"It was really neat to see the unity in the church, because it was the one place where you could see high caste and low caste together as one," Shaner said.
This was even more evident with the camp-outs that the church's youth group held on certain Fridays. High caste and low caste kids in the youth group would share the same food and sleep together on the ground.
"It was great to see how the Lord would break down those walls," Shaner said.
The youth group also met on Wednesdays for Bible study.
The church was very appreciative to Shaner, and they showed this by celebrating his birthday with him.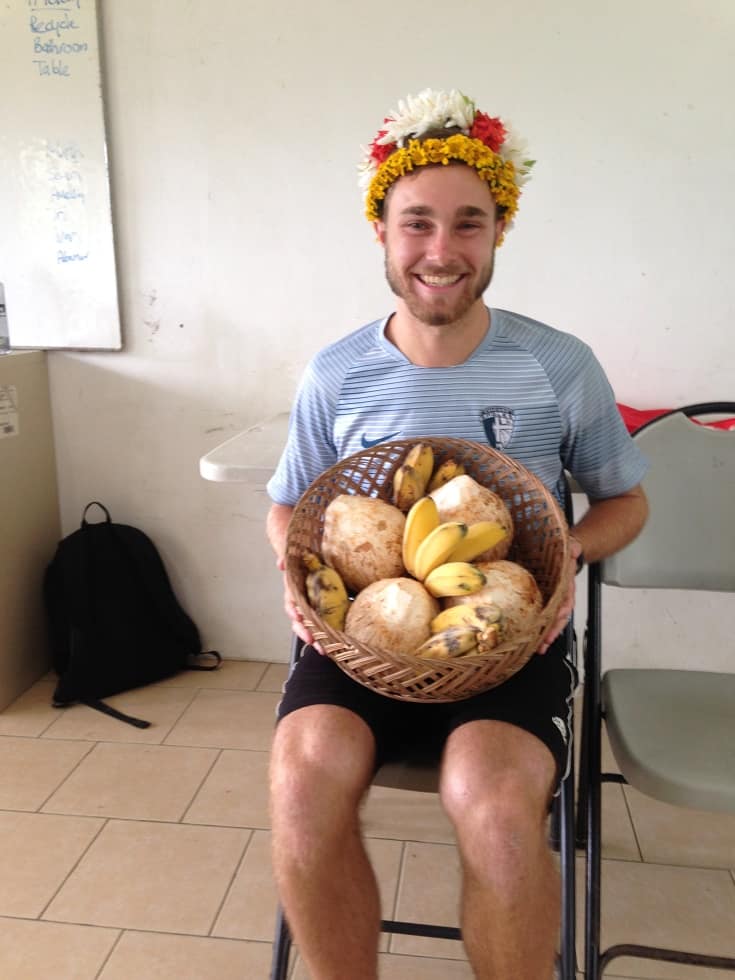 The people of Yap are not wealthy.  "Only a third of the people have jobs, and the minimum wage is $1.35/hour," Shaner explained. "Everyone sleeps on the floor. Very few have mattresses."
The common food for the people of Yap are coconuts, bananas, rice, hotdogs, and dry raman.
However, despite their poverty, the people gave Shaner the best birthday they could, gifting him with coconuts and bananas, as well as many hand-made leis.
When the time for soccer camp finally came around, Shaner piled into a van with a bunch of kids for a hot ride with no A/C.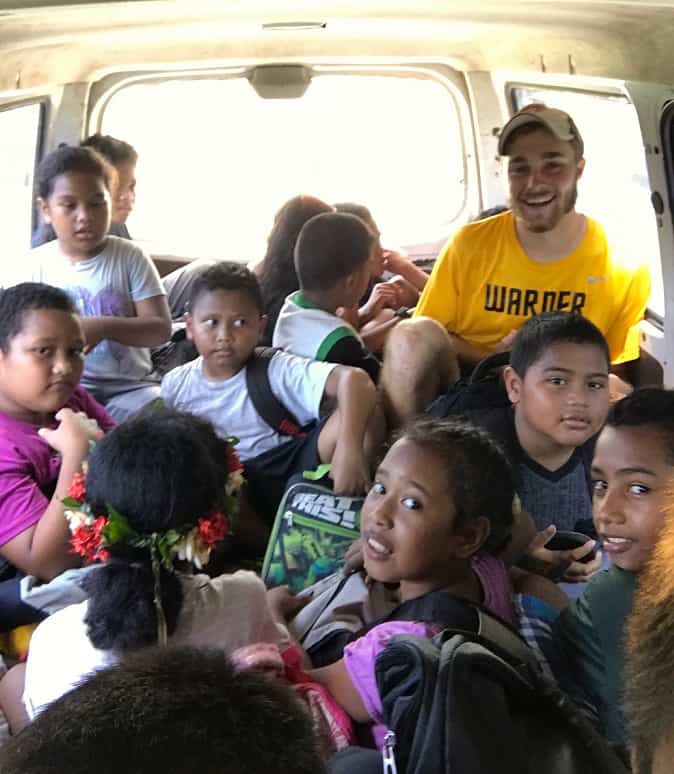 "We took out the benches and fit 22 kids in the van," he Shaner said.
Shaner had the benefit of help from several of the high school kids who that he had helped coach during the summer.  They had grown in their faith, and were happy to act as extra coaches for the camp.
Shaner said that one of the girls who attended camp accepted Christ, but Shaner had seen many salvations over the course of the summer.  It was proof of what God can do even when a person's plans are forced to change.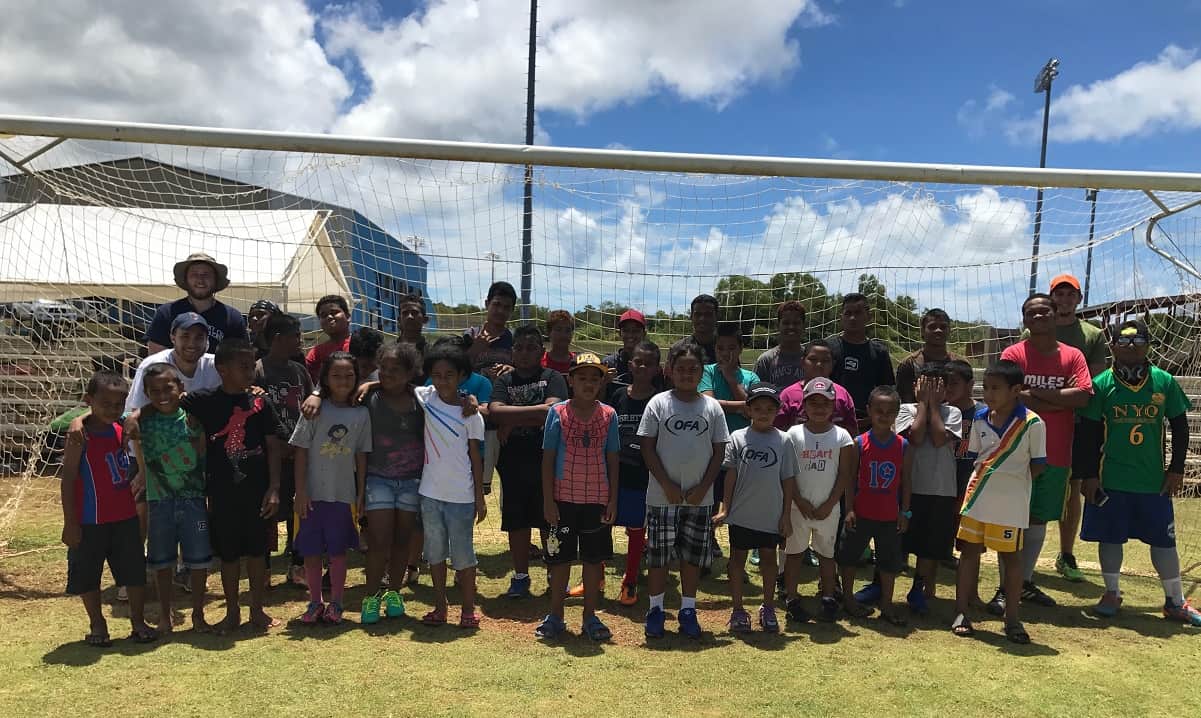 Ministry is important to Shaner, who says that it is every Christian's job to be a witness for Christ.
"It doesn't matter where you're at; what matters is you're [God's] witness."