Warner University is blessed with an amazing community, where we strive to adapt and connect with others. Joshua Lynch, a Math Education major, has started an American Sign Language club on campus. Josh is a member of the deaf community and had the dream of starting a club to help educate others and to increase awareness and understanding of the deaf culture.
The inspiration towards starting the club comes from his classmates, who constantly showed interest in learning words and how to spell their names. In addition to enhancing the skills of his fellow Ed majors, the newly founded club has members from our Psychology, Ministry, and Communication Arts departments who will take the skills learned into their career fields.
Josh first approached his academic advisor,  Dr. Lori Hutto, about his ideas.  With the help of Rodney Dallas from Warner's Student Life office, he gained approval for the student organization. During the first meeting on February 11, Josh taught the alphabet and numbers, as well as the process of finger-spelling.  The ASL club meets Tuesdays and Thursdays at 4:30 pm in DB209. Tuesday is the day where students learn new material and Thursday being "review day," as Josh likes to refer to it.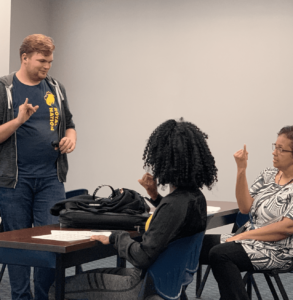 Pictured: Joshua Lynch on February 11, giving his first lesson. 
As the club continues to grow, Josh hopes to close the bridge between the hard of hearing community and hearing students. He aspires for ASL to continue developing as it is not a universal language. It was actually developed from the French Sign Language and many of the words still have to be spelled out. The language also lacks jokes and phrases. Yet learning sign language can also refine different senses such as sight because communication depends a lot of body language and eye contact between the subjects.
We are super excited about this new opportunity and look forward to seeing the activities Josh has in mind come to fruition!