Early Registration for May Term, Summer and Fall semesters begins this week! Get a head start and begin the registration process now, because the window for early registration ends June 1,2018!
After the early registration window closes, students who finalize registration for the following term will incur a $100 late registration fine.
Prizes are given to the first 25 students who finalize registration! Bring a printout of this completed checklist to Student Life: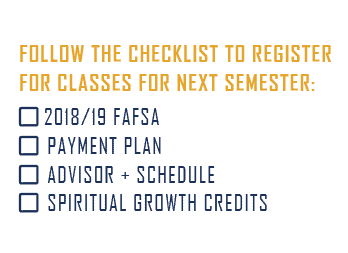 Begin the registration process now by seeking out your advisor in his/her office today and signing up for an advising appointment. A sign-up sheet is posted on your advisor's door. After you sign up, take a picture of your appointment and add the date to your personal calendar.
Any hold must be resolved before you can finalize your registration!
Best of luck with your mission… this blog will self-destruct in ten seconds…