On February 12-14, 14 Ministry students and faculty traveled up to Atlanta to observe and experience the variety of ministries the Lord is using in that great city. The trip involved some great food; bonding (and sleeping) time in the van, and visiting four of the most exciting ministry sites in the country.
We started off in the rain on Thursday to visit the Sweet Auburn neighborhood. It is famous, with four million visitors a year, especially to Ebenezer Baptist Church and the Martin Luther King Jr. museum and burial site. With Andy Odle as our guide, we learned about street ministry, discussed homelessness and ministry to the homeless, and then visited the legendary Ebenezer Baptist Church. In the picture below, we are with Andy at the front of the sanctuary. Sermons by Dr. King, who co-pastored there with his father, Martin Luther King, Sr., are played on constant rotation in the sanctuary.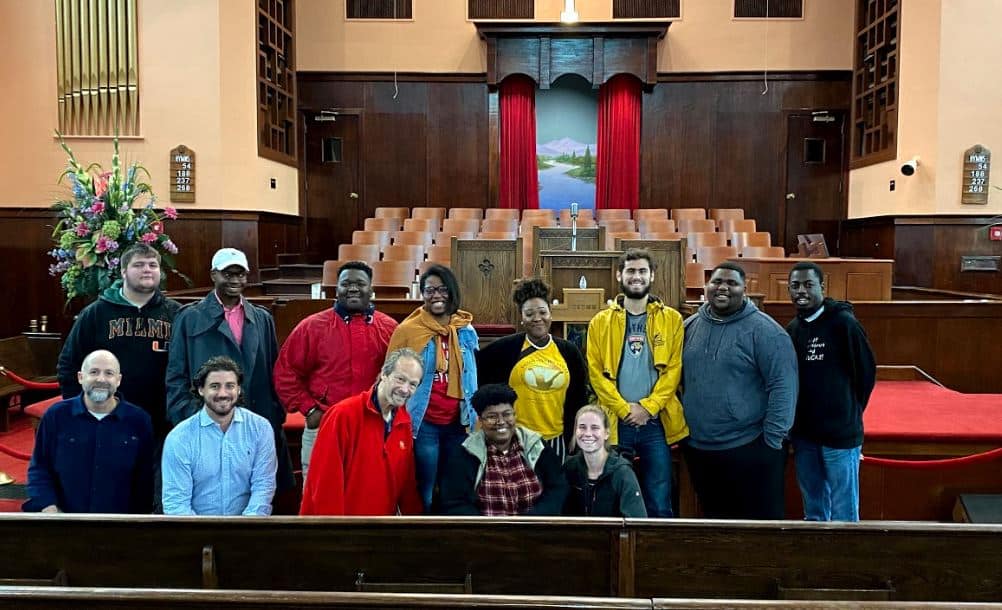 It was a different world at our next stop. We drove to the north side of the city to visit one of the largest churches in America, North Point Community Church in Alpharetta, pastored by Andy Stanley. As we walked through the massive children's area, the two worship centers, and the rest of the building, we saw exactly what happens at a church of 30,000. Our students were surprised to discover that the average North Point attender only is at the Alpharetta site 1.2 times per month (the church has multiple campuses). In fact, if everyone came at one time it would overwhelm the system. Think, for example, of coordinating 700 volunteers on a given Sunday morning.
After a bite to eat at McDonalds, we headed to Buckhead and Peachtree Presbyterian Church. The word "upscale" only begins to do justice to Buckhead and Peachtree. With speakers like N.T. Wright and Jimmy Carter, the church is legendary, having recently celebrated its 100th year anniversary. Our students enjoyed the gym, have never seen such a nice coffee and work area, and for all it was a first time to visit a church with its own tunnel (the church meets on both sides of a busy street). They purchased the YMCA that was located next door, a parking garage, and a condo building to expand their ministry in recent years.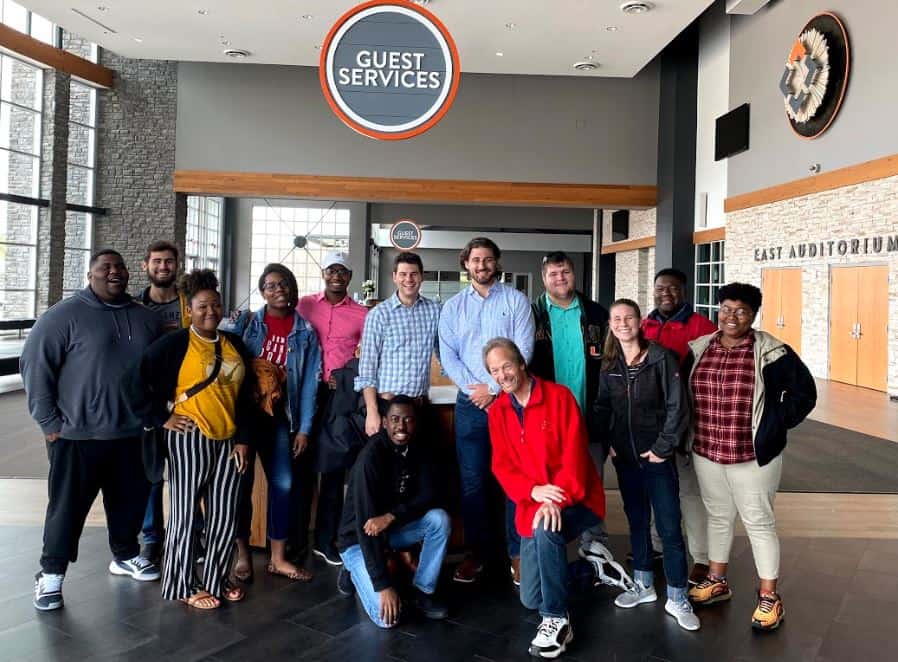 From Buckhead and its mansions, we headed back south, past the Mercedes Benz Stadium, and across the tracks (literally) to the south side once more and Community Church of God, where Pastor Michael Smith is winding up 40 years of ministry, following the ministry of his father before him in that celebrated Church of God congregation. We all marveled at his faithfulness, and the beauty of their sanctuary.
Of course, everyone was tired, but the day was not over. A trip back to our hotel for a brief break was followed by an enjoyable dinner at a Mexican restaurant. On our first night in Atlanta, we ate pizza together (joined by special friends Detective Peter Dwyer and police Sargent Nikki Dwyer, both in uniform, and Hudson and Olivia Dwyer), but on our second night only Sgt. Dwyer could join us with Hudson and Olivia. It was a great ending to a great day.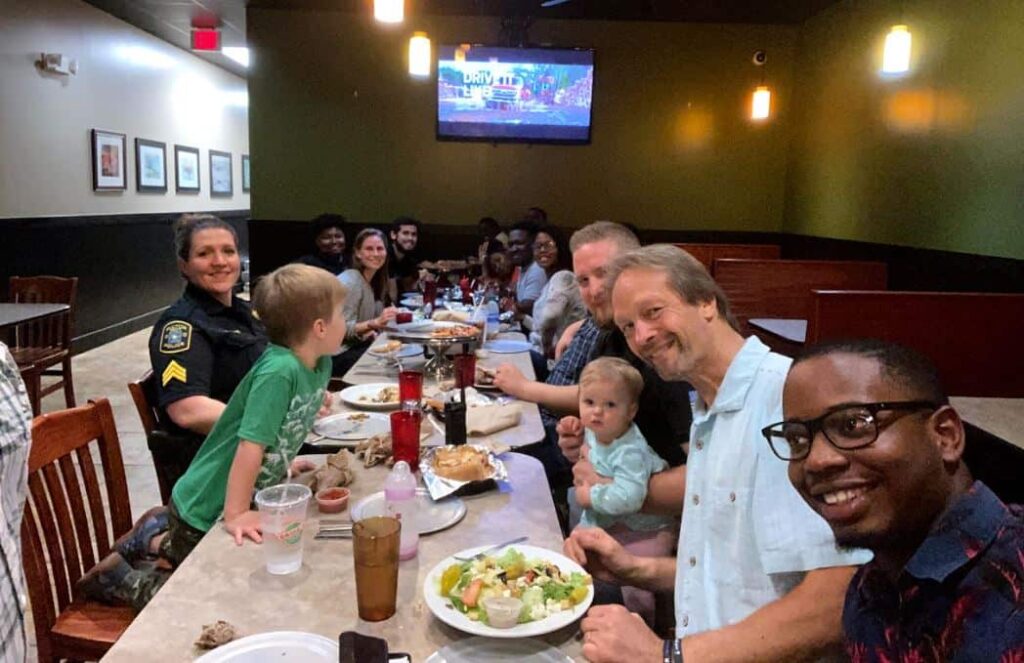 Our trip home was longer than the ride up, with stops at Steak and Shake and for Georgia Pecans, but we returned in one piece, thankful for Warner University and its friends who made such a great trip possible!
Keep the Ministry Department in your prayers, asking God to raise up righteous, godly and skilled servants for the days of ministry ahead!