The midterm elections are days away. Though their national influence has waned in recent years, the Christian voter still represents a notable percentage of the electorate. As a result, Christians are both individually and collectively capable of making an impact on the results of various elections. However, of much greater importance is the impact a Christian has on their own community and family following an election.
But first, when considering how one will vote in the days ahead, consider the advice John Wesley offered several centuries ago: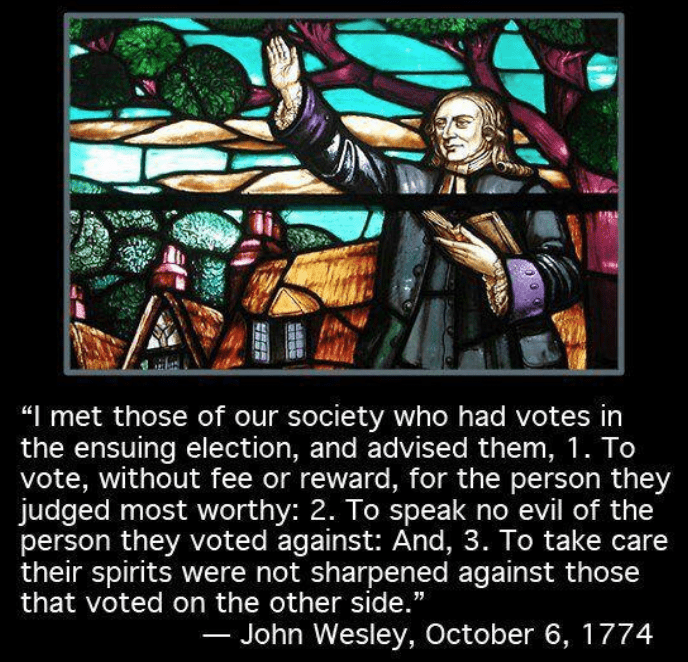 In 1774, John Wesley offered powerful advice regarding a Christian's role in voting. Allow me to quickly review:
Vote your conscience.

Do not slander the opponent of the individual you voted for.

Do not allow voting to disrupt Christian unity.
Such advice is alien to the social and political climate Christians inhabit today, and yet the call is no different; it is only of greater importance!
The Christian voter, perhaps more than any other demographic of voter ought to be armed with a drastically different voting ideology. As a result, it is actually the post-election landscape where the Christian is best set to thrive. Marked out below is the framework of such an ideology, and it is one that I still believe can heal our nation and change the world.
The Christian Prays for all Leaders
First of all, then, I urge that supplications, prayers, intercessions, and thanksgivings be made for everyone, 2 for kings and all who are in high positions, so that we may lead a quiet and peaceable life in all godliness and dignity. 3 This is right and is acceptable in the sight of God our Savior, 4 who desires everyone to be saved and to come to the knowledge of the truth.  (1 Timothy 2:1-4, NRSV)
You have heard that it was said, 'You shall love your neighbor and hate your enemy.' 44 But I say to you, Love your enemies and pray for those who persecute you. (Matthew 5:43-44, NRSV)
The Christian prays for all political leaders who are holding office. This might seem trite today, but such an activity is more than mere well-wishing. If such intercession is carried out with a correct theology of prayer, then such an act is of monumental importance.
The Christian is calling upon the same God who causes nations to rise and fall (Job 12:23) and who removes kings and establishes them (Daniel 2:21). The one to whom the Christian directs their prayers is no small presence, and thus our prayers of welfare and discernment for those in leadership are sobering. Christians are taking their requests to the King when they pray for their elected leaders. God is aware of the social and political landscape of America and beyond, and God is not weakened by the results of any election.
When we pray for our leaders, we are doing so with an awareness of who we are praying to. This will certainly alter the manner in which we pray for those in leadership. In a world where opinions are readily available regarding each elected official and his or her opponents, the Christian alternatively gives their voice to God.
The Christian Transcends the Political Arena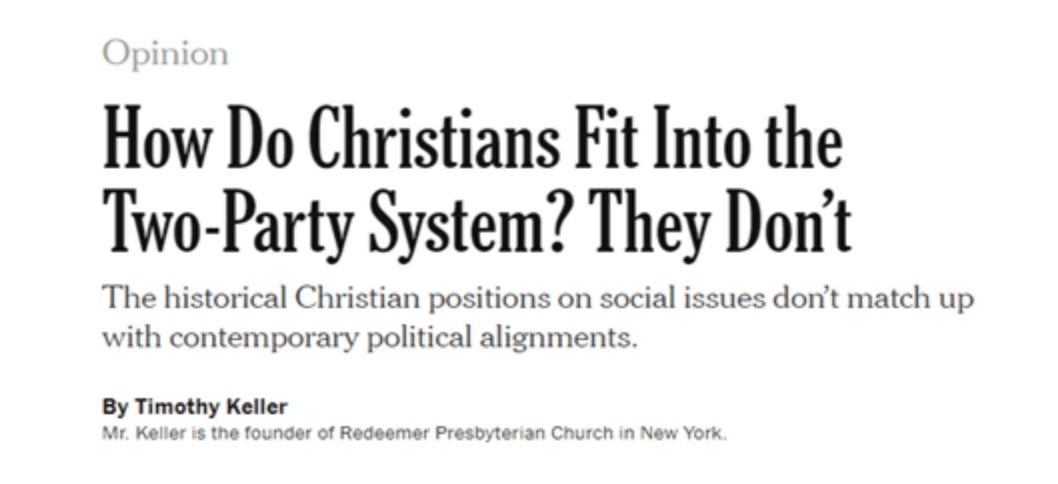 Pastor Tim Keller perhaps said it best in his recent New York Times Op Ed titled How Do Christians Fit Into The Two-Party System? They Don't:
"The historical Christian positions on social issues do not fit into contemporary political alignments. So Christians are pushed toward two main options. One is to withdraw and try to be apolitical. The second is to assimilate and fully adopt one party's whole package in order to have your place at the table. Neither of these options is valid."
Rather than tethering oneself to the limits of political ideology, the Christian believes progress can and should be made beyond who and what one votes for. Progress for Christ's Kingdom is not limited to the results of any one particular election.
This is incredible news for the Christian, because whatever issue they care most deeply about is not limited by the results of an election. What politics ignore or fail to address can be picked up and prioritized by the Church.
In fact, it is in a climate of political defeat that the church is best prepared to lead! The less effective a political structure is in caring for a population, the more notable is the impact a local church – or individual Christian – can make! The Christian transcends the results of any election, because the results of the election do not prohibit the personal work of a church or Christian.
The Christian has a Higher Hope
In Colossians 1, the Apostle Paul offers the definitive portrayal of Christ's continued presence as true hope for this world:
He is the image of the invisible God, the firstborn of all creation; 16 for in him all things in heaven and on earth were created, things visible and invisible, whether thrones or dominions or rulers or powers—all things have been created through him and for him. 17 He himself is before all things, and in him all things hold together. (Colossians 1:15-17, NRSV)
When we are reminded of the strength of Christ, we are encouraged by the finite period of time an elected official is permitted to exercise limited dominion. All Americans government representatives eventually abdicate their power and influence.
Christ is not elected, and Christ will never be voted out. No matter who is in office, a Christian does not lose hope. Ultimately, the Christian finds representation in the person and work of Christ. This adjusts our hope away from elected officials and policies and instead toward the immutable God and the Kingdom He is establishing on this earth.
This is a reality around which the church can rally. Let the results occur as they may next week. Christ reigns. This is the power of our shared faith, and we would be foolish to let an election wreck it!